Movies
FILMS: AGES 3 TO 7 ('Tiny Tots' Series)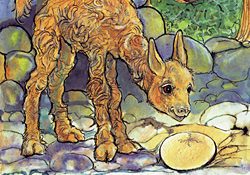 Is Your Mama A Llama
By Deborah Guarino, 2001, 7.12 min., Weston Woods, US
Lloyd the llama is looking for his mama. "Is your mama a llama?" he asks a bat, a swan, a cow, a seal, and a kangaroo. Young children will share Lloyd's delight when the answer to his question is finally, "Yes!"
---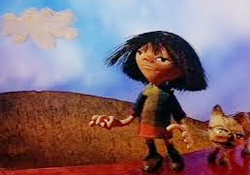 Gota A Gota (Drop by Drop)
By Lala Severi, Lars Bildt & Mario Jacob, 1991, 3.48 min. Imagenes/Kurmi Film, Uruguay/Sweden
The dream of a girl shows that water is not only a source of pleasure and play, sini is also necessary for life. From the Madre Tierra series.
---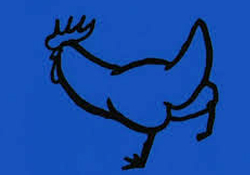 Hen Hop
By Norman McLaren, 1942, 3.4 min., NFBC, Canada
This joyful short animation features a dancing hen that transforms into an egg.
---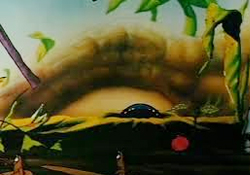 Pequeno Descuido (A Slight Mistake)
By Pepe Infantozzi, Lars Bildt & Mario Jacob, 1991, 3.48 min., Imagenes/Kurmi Film, Uruguay/Sweden
In an imaginary forest a little carelessness can cause havoc. But the active participation of a child can put things in place.
---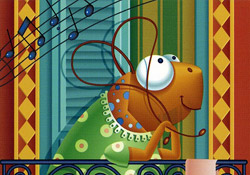 La Cucaracha Martina
By Daniel Moreton, 2006, 10 min., Nutmeg Media, US
This Caribbean bilingual folktale recounts the adventures of a little cockroach, Martina, whose ears are assaulted by the loud big-city sounds. Lively illustrations, a winsome narration by Luz Ramos and bouncy music bring this multicultural tale to life.
---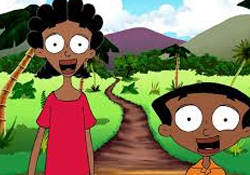 Mind Me Good Now
By Chris Cormier & Derek Cummings, 2005, 8.15 min., NFB Canada
In this animated short 2 children, Tina and Dalby, disobey their mama with almost tragic consequences. Having strayed away from home, they run afoul of a local "cocoya," a wicked spirit that loves to eat little boys! But through Tina's resourcefulness and cunning, the cocoya is vanquished and the children run back to mama's forgiving arms.
---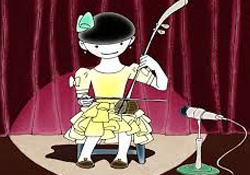 The Chinese Violin
By Joe Chang, 2002, 8.21 min., NFB Canada
In this animated short from the Talespinners Collection, a young girl and her father move from China to Canada, bringing only their Chinese violin along for the journey. As they face the challenge of starting fresh in a new place, the music of the violin connects them to the life they left behind and guides the girl towards a musical future.
---
FILMS: AGES 8 TO 13 (New 'Human Rights For All' Series)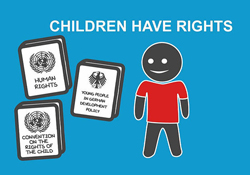 Children's and Young People's Rights
2.45 min., BMZ Federal Ministry for Economic Cooperation and Development, Germany
In almost all developing countries, children and young people make up the majority of the population -- up to 70 per cent in some cases. The Convention on the Rights of the Child adopted in 1989 sets out the civil, political, economic, social and cultural rights of girls and boys until they reach the age of 18. The rights of young people are violated in many different ways around the world. If children are to shape their future, we must all strive to ensure that they are aware of their rights and that these rights are observed, protected and safeguarded.
---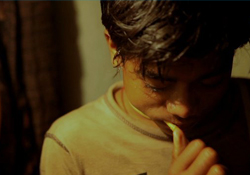 Amar
By Andrew Hinton, 9.45 min. 2011, Pilgrim Films, India
Amar is 14 and top of his class. Someday he'd like to be a professional cricketer, but for now he's the family's main breadwinner, working two jobs six and a half days a week on top of attending school in the afternoons. This short observational documentary is a simple journey with Amar through his daily life.
---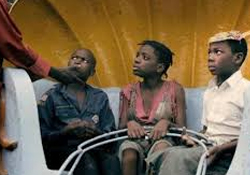 A Tropical Sunday
By Fabian Ribezzo, 15 min., 2014 Azabache Films, Mozambique/Italy
Lisa, Babu, Gito, and Nuno live on the streets. At Sunday they spend the time at the Funfair, looking for a chance to jump on a ride.
---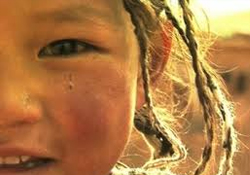 I am Pema
By Sam Wangyal/Andrea Paffetti, 2009, 12 min., Wild Nomads Production, India/Tibet
"I Am Pema" is a film that paints a lyrical reflection on displacement and hope, glimpsed during a day in little Pema's world. It was her parents' wish to achieve better things for their children through an education that respects their language and cultural identity at perhaps at the cost of never seeing her again. They wanted at least one of their children to have a future under the Dalai Lama's care. Four years ago, thirty-nine Tibetan children trekked over the Himalayas forced to flee their oppressed homeland to seek freedom in exile. One of them was Pema, then only seven years old.
---
Trade
By Kireet Khurana, 1997, 6.38 min., NFB Canada
A young girl is taken away to a large city by train, but she knows nothing about the man her parents entrust her to. During the journey she recalls good times she spent with her family at a village fair, where she had a pretty flower tattooed on her hand. On their arrival, the child is dazzled by the lights of the city. She trustingly follows this stranger, who is leading her to a brothel. When she sees money passing from the hands of the madam to the pimp, she remembers that her father took a large sum of money from this same stranger. She realizes with horror that she has been sold.
---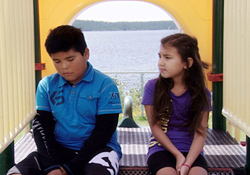 Tired
Karina Wabaquin Coon-Come, 2013, 3.25 min., Wapikoni Mobile, Canada
A Cree young boy runs away from home. He fears being placed in foster care again.
---
FILMS: AGES 8 TO 13 ('Young Globetrotters' and 'Latino' Series)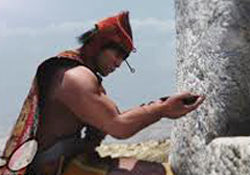 Condor
By Erwin Gomez Vinales and Margarita Cid Lizondo, 7.03 min. 2011 Chile
At the Atacama Desert in 1530 a messenger of the Inca Empire (chaski) is attracted by the sun god at the summit of the mountain. This is where he experienced a horrible vision of the future. As the chosen one must make an important decision to protect the future of his people.
---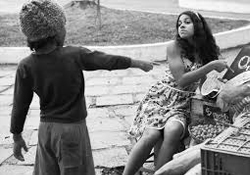 Pequeno (Small)
Ernesto Molinero, 5.01min, 2012, Plano 3 Filmes, Brazil
Inspired by the origins of cinema, a small boy travels on a fun adventure for a piece of watermelon.
---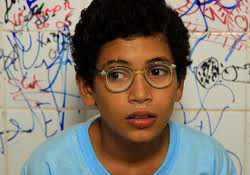 Meninos (Boys)
Ernesto Molinero, 4.11 min., 2007, Plano 3 Filmes. Brazil/Argentina
Boys in a Brazilian school deal with the daily trials of childhood -- bullies and indifferent girls -- and emerge as better friends.
---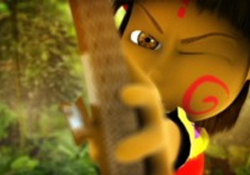 Nawuin
By Jose Tonny Marquez/Miguel Alvarado, 5 min., 2010, Venezuela
In a remote age, lived the cacique Zapara and his daughter Maruma. Zapara never wanted her to get married, because he wanted to keep her to enjoy her beautiful voice. One day Zapara goes hunting and Maruma falls in love with a young poet named Tamare. When her father comes back, he discovers her love and full of rage, he opens the earth, allowing water to flood in, creating the big lake Maracaibo.
---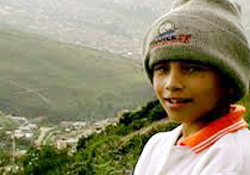 Rapping At Fear (Rapeandole al Miedo)
By Andres Tabares/ Pedro Pablo Tattay, 6.52 min., 2004, Listen Up!/Polimorfo, Colombia
In Andres Tabares barrio in Colombia, "social cleansing" groups wage war. When this thirteen year old raps against violence, people listen.
---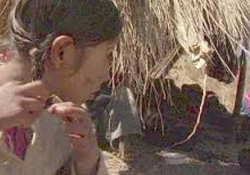 Esperanza
By Maider Oleaga/Mario Madueno, 7.25 min. 2012 Pantalla Partida, Bolivia
One day in the life of Esperanza.
---